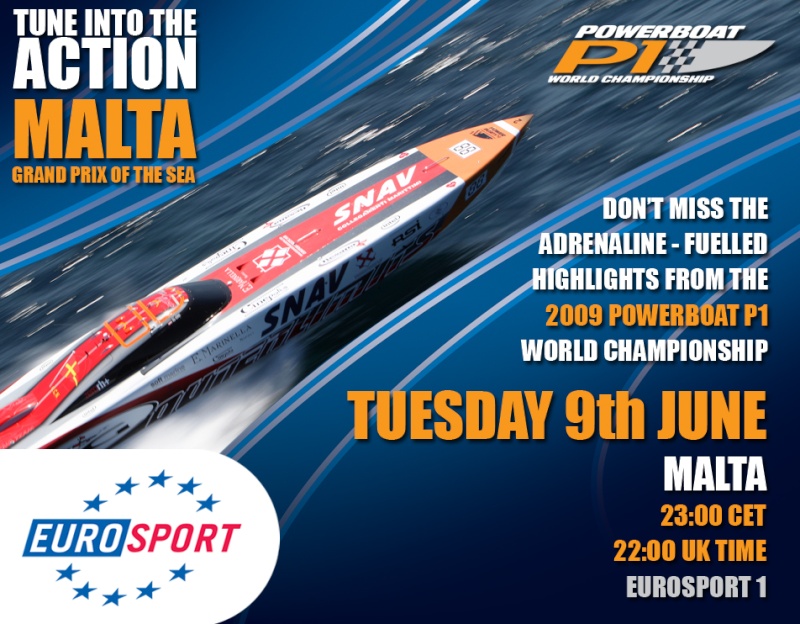 FOR IMMEDIATE RELEASE
HEADLINE: Those Damned Donzi's Destined for Supersport Domination.
CAPTION: Team 26 Racing in action in Malta
If powerboats were film stars then Donzi Marine would have a trophy cabinet full of Oscars by now. Not just equipped with suitable red-carpet looks, Donzi Marine's coveted boats are well respected by the industry, especially for their balance, handling, blistering speed and reliable rough-water ride.
Having starred alongside the likes of Colin Farrell, Jamie Foxx and Will Smith in Hollywood blockbusters Miami Vice and Bad Boys II, not to mention being cast for Abercrombie & Fitch and Armani Exchange photoshoots, Donzi Marine's performance boats have earned their stars and stripes on both sides of the Atlantic with six National Championships and four World Championships to its name, including top spot in the 2006 Powerboat P1 Evolution Class.
Founded by the late great Don Aronow, who famously said, "Second to me is not important, it's just as hard to build a second placed boat, so you might as well build a winner," Donzi Marine's principles haven't altered with the champion company continuing to pride itself on creating and attracting winners, including its association with Powerboat P1, according to Donzi Marine VP of Sales, Craig Barrie.
"Donzi Marine and Powerboat P1 are a perfect match. Powerboat P1 has done a great deal by taking offshore powerboat racing global and I think Powerboat P1 has a great concept with plenty of good ideas and a team of great people behind it.
"Now in its seventh year, Powerboat P1 has stuck to its traditions and kept the platforms to allow manufacturers to show-off their products, compete on a level playing field and let the product do its job."
At the 2009 season- opening Grand Prix of the Sea in Malta the Donzi Marine certainly did its job with Team 26 Racing showing domineering pace and power despite not picking up maximum points. Still extremely content, it couldn't have gone much better for Barrie.
"We're very happy with Donzi Marine and Team 26 Racing's set-up. I remember Kim [Collins] came down and we ran the oh-so-orange poker run comp boat out of the Key West door, where it gets a little snotty and they were convinced it was a Donzi Marine that they wanted to use in the 2009 Powerboat P1 World Championship.
"I told Kim it's going to run all by itself, you don't even have to do a darn thing. So after Malta, it was like with Mike Shelton, I always seem to tell people to slow down, especially when the boats are built to go faster.
"I don't care if it's bumpy or flat, the hull works best when you allow it to do what it's designed to do."
From the original Sweet 16' – that introduced the concept of the sleek fiberglass speedster to the world in 1964 - to the 38ZRC Donzi - the company's most significant design yet - Donzi Marine's boats may have changed shape but their frightening speeds still sends shivers through their rivals.
Perhaps it will be Angelo Tedeschi delivering 1964 World Championship runner-up Jack Manson's very same frustrated verdict, "Those damn Donzi's," after the 2009 World Championship finale.
Regardless of the champion, having a worldwide brand such as Donzi Marine racing in the Powerboat P1 World Championship is mutually beneficial for both stakeholders, states Barrie.
"Whether it's in Japan, Dubai, Kuwait or in Africa, Donzi has sales all over the world, so when you combine the internationally renowned success of Donzi with the attention and notoriety that Powerboat P1 has brought to the marine industry, everyone is winning.
"Powerboat P1 is shown on American TV, Japanese TV, it's on TV all over the world, so if the Donzi is winning, people want a Donzi – everyone wants to be associated with a winner -it's the very same reason manufacturers want to get involved with Powerboat P1."
So what of Donzi Marine's future in Powerboat P1? Can Team 26 Racing really sustain its challenge all season? Barrie certainly thinks so with the whole premise of the boat's setup prepared for minimum effort but maximum result.
"Powerboat P1 just needs to make sure that they stick to the winning formula and not go astray. I've seen boat racing organisations in America, Europe and in Japan all go astray by trying to bring too much to too many people and sometimes losing their roots.
"It's true for boat companies too. If Donzi wanted to build an 80 foot yacht, we would have to ask, how do we justify it? You can't lose your focus and your heritage just for the sake of it."
Donzi Marine would find it difficult to lose its heritage, even if it tried, especially with the company named after the late great Aronow, who was often referred to as the Enzo Ferrari of big bore offshore powerboat racing. Could the Don have kept up with today's speed kings? Barrie thinks so.
"Don would've loved Powerboat P1. Knowing him as I did, he'd have probably jumped straight in one of the boat's, rolled up his sleeves, took off his helmet and let his hair blow in the wind. He was very wild and free spirited and he would've definitely been excited by Powerboat P1."
Please go to
http://www.powerboatp1.com/
for more details
ENDS…