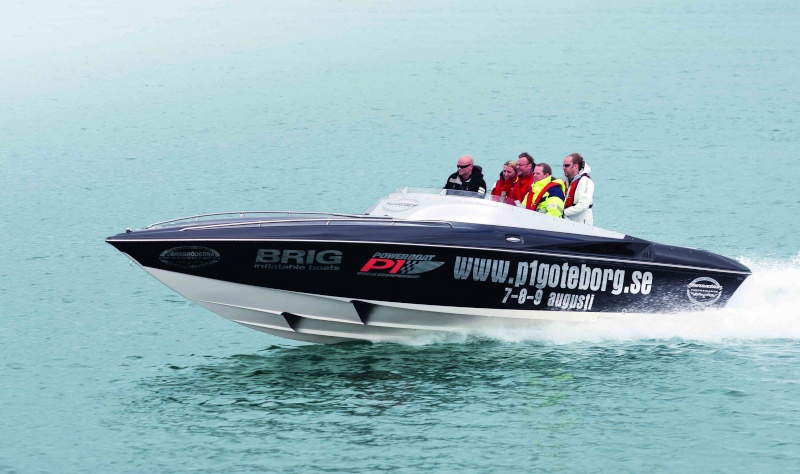 Powerboat P1 Starts Scandinavian Countdown
Powerboat P1 officially launched the countdown to August's Scandinavian Grand Prix of the Sea in Gothenburg yesterday.
Influential members of the marine industry and international media joined Powerboat P1 officials from the UK and Sweden to outline ambitious plans for the offshore powerboating extravanganza, ready to hit the maritime-obsessed city between August 7-9.
Powerboat P1 CEO Asif Rangoonwala can't wait to get the show on the road. "Scandanavia was a big target for the 2009 calendar. The sensational location of the Långedrag in the heart of the city as well as the maritime heritage, richly painted in the city's culture, makes the opportunity to bring the Powerboat P1 roadshow to Gothenburg too good to miss.
"We're positive that having such a spectacular event in the largest port in Scandanavia will not only raise the profile of the Powerboat P1 brand but give something back to Gothenburg and their continued support for the martime industry.
"It was an easy match after looking at the facts. One in seven households owns a boat in Sweden – that's 1.2 million boats."
Powerboat P1's local promoter for Sweden, Mario Hytten, echoed Rangoonwala's sentiments, adding: "I'm really excited to bring a world championship event to Gothenburg. "
Acting upon the advice of environmental specialists, FB Engineering, to ensure the Scandinavian Grand Prix of the Sea meets Sweden's environmental protocol, Hytten is equally as excited about the prospect of kick-starting Powerboat P1's environmental drive.
"We are working on an initiative that on balance will leave a positive contribution to the Gothenburg Archipelago. "
Hytten confirmed an official announcement on Powerboat P1's environmental initiative will follow.
The thrilling waterfront drama will unfold in the pits at the Bananpiren before surging up the challenging Långedrag course. All part of Gothenburg's beautiful backdrop, the latest exclusive addition to the event includes the unprecedented use of the city's famous military landmark, Oscar II fort.
Untouched since the Second World War, the historic fortress that last opened to the public in 2004 will offer sensational vantage points of the racing that will be available to 10,000 lucky people.
For tickets please go to
http://www.p1goteborg.se/